Finding The Angel by Rubina Ramesh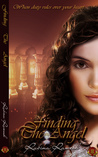 Finding The Angel
by
Rubina Ramesh
The love story of a prince charming and a pretty girl next door is intriguing. As this is a modern day romance prince charming comes in a private jet and not on horse. Though he rides a horse.
Faberge the angel is a rare diamond. It is property of Aryan Ranuat the prince. Shefali works for an auction house and is called by Gitanjali Devi to catalogue the artefacts in the fort. Gitanjali Devi is friend of Kalpana who brought up Shefali. Shefali comes to fort is enamoured by Aryan's charms. They come close briefly and then the unthinkable happens. Angel is stolen and by chance Shefali leaves fort the same time. She does not inform anyone. Aryan is furious and thinks that she did it. He goes to Bombay after her and confronts her. She denies everything of course but finds Aryan irresistable. They share a uneasy romance and what happens next? Will they recover Angel and unite or go apart?
Now a days there is a trend of showing broken, psychologically damaged characters. The best part about this book is that characters are normal human beings. Although Aryan has some trust issues due to the trapping of his father by a beautiful seductress, he is still normal. He is just cautious and rightly so. He is rich and successful and the world is full of gold diggers. He is bold, courageous, arrogant, haughty, considerate and romantic deep down. He is hesitant to commit despite his obvious love (lust is part of that) for Shefali.
Shefali is an orphan raised by Kalpana. She is dedicated to his job and highly cautious. She feels indebted to Kalpana and when the scandal threatens the firm she panics. She goes along bullying of Aryan for two pronged reasons: her love and prestige of Kalpana. She is very good at her job and that is why the bad guys feels threatened when she enters the fort.
The supporting cast is good. Gitanjali Devi is typical queen. She is magnanimous, pragmatic and caring. Her daughter and son in law are playing their part.
The romance is first rate. Rubina brought out the romantic feelings of Shefali beautifully. I am not a girl but am pretty sure that is how a young girl in love feels. Though Aryan emotions are not dealt in detail. The mystery of missing Angel and fake artefacts is not hard to decipher. But then it is a romance and not mystery.
I give the book 5/ 5 stars.
P.S. Writing a book is a tedious job and labour of love. Views in the review are personal and with full respect to the hard work put in by the author. Please like/ comment/ mark helpful the review if you feel so.
Where to buy:
https://www.amazon.in/Finding-Angel-R...
Blurb:
All She wanted was love...
Shefali is a die-hard romantic. Having lost her parents at a very tender age, she is in search of a place which she can call home. Her passion for Art lands her a job as an art curator to the famous artifacts of the Ranaut Dynasty. When she meets the scion, Aryan Ranaut, she feels that her dream might come true until…
All He wanted was to trust…
Living the life of a modern day Prince is no easy task for the young and dashing Aryan Ranaut. Having lost his father to a rapacious woman, Aryan has severe trust issues. But upon meeting Shefali, he feels he could let down his guard. Until…
All They need is to find The Angel…
Just as Aryan realizes his love for Shefali, one of the most precious artifacts, The Angel, goes missing from the Ranaut collection. All fingers point towards Shefali—more so because she leaves the palace without telling anyone on the very night of the theft.
Finding the Angel is a story where duty clashes with love and lack of trust overrides passion. Under these circumstances, can The Angel bring the star-crossed lovers together?
About Author
Rubina Ramesh is an avid reader, writer, blogger, book reviewer and marketer. She is the founder of The Book Club, an online book publicity group. Her first literary work was published in her school magazine. It gave her immense pride to see her own name at the bottom of the article. She was about 8 years old at that time. She then went to complete her MBA and after her marriage to her childhood friend, her travel saga started. From The Netherlands to the British Isles she lived her life like an adventure. After a short stint in Malaysia, she finally settled down in the desert state of USA, Arizona. Living with her DH and two human kids and one doggie kid, Rubina has finally started living the life she had always dreamed about – that of a writer.
View all my reviews