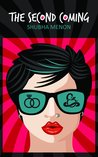 The Second Coming
by
Shubha Menon
My rating:
5 of 5 stars
Shubha Menon did a fantastic job. This is rom-com with a lot of comedy and lot of romance. In fact it has more humor and satire than comedy.
Our heroine Mrinalini Mehta aka Mini is a happily married woman who is also regarded highly in her office also. She lives happily with her hubby Shyam Mehta who is a cricket enthusiast. Her boss Mahatta calls her Mrinalini and regards her as a top notch wedding planner. But is she happy? No. why?
"It was not as though Shyam was a bad husband. Far from it. He was a good provider. They lived comfortably. He made a loving father to polka, spoiling her, bending backwards to fulfil her every whim. Mini cared for Shyam and was dependent on him in many ways. It was just that their marriage had degenerated into some kind of listless, mechanical routine, where they went to office, came back, ate, slept and then left for work again the next morning. The excitement has fizzled out, never to return. She knew that Shyam cared for her and she was certain that there was no other women in her life. But let's face it, Mini mused, neither one of them was exactly thrilled to see the other anymore. Shyam just didn't make her heart beat faster."
Sex is almost non-existent in their life. She is overweight and binge eat to fill the void inside. What does she wants then? One she wants to loose 5-7 kgs and second:
"She did want to have a relationship, but she did not believe in sex for the sake of sex. She want a beautiful episode- something to cherish and hug to herself on nights when Shyam snored to loudly or when he picked chicken out of his teeth with fingernails. Something that made her believe that Mills and Boon romances did happen, even to women like her. It was not about sex, it was about romance. It was about finding a soulmate, versus being stuck with a marriage partner"
And does she find the soulmate? Well almost. Enter Rustom, the Mumbai head who is all that what she wanted tall, dark and handsome except two little flaws. He has married for money and stuck with his wheel chair bound wife and second he is a skirt chaser and slept with many office colleagues. So she gets hot sex but not other things. He didn't even said 'I love you' to her before or after making sex.
Happy Marriage is a myth and who needs marriage except marriage planners. She is aware of physical limitations and menopause is approaching fast. So she strays but regrets and doubt remains.
The novel is path breaking in the sense that its not a regular rom-com and they lived happily ever after. She enters into extra marital sex in full senses. The sex scenes are described in a very aesthetic way. Still the author has portrayed her in such a beautiful way that you never judge her or consider her as tramp. Her point of view is fully explained logically and you go with the flow of story and at no point of time you question her motives. You understand the insecurities and motivations of Mini and Sympathies with her.
In fact she herself questions and then the position is explained beautifully as someone explains to her:
The lady sighed "Love? Love doesn't just happen. It has to be worked upon over a lifetime. Because before love, comes respect and before respect, understanding..." she rambled on "And this is where women go wrong".
In the end she develops cold feet and return to Shyam. They supposedly live happily ever after. And the best part is Mini snubs Rustom and not the other way round.
That's sums it up. The humor is top rate. She is not afraid to self deprecate her or the outlandish marriage plans they make for super rich. There is never a dull moment. The supporting characters are also funny and her friends are a riot.
Shubha Menon's prose is brilliant. He is a good command on language and there is some very poetic moments. Though it's a fiction but a lot of married couples will easily identify with it. There is touch of reality here which is ironic sometimes. Life sucks when you are in a rut. But as the author says this is life and there is no escaping it. The fairy tale romances are a myth and you have to come back to the roots sooner or later. These affairs are simply not worth it.
It a total Bollywood masala material. Yash Chopra camp will like it because in background throughout there is marriage going on. Lots of scope of song and dance routine. Vidya balan or Sonakshi as Mini, Abhay Deol as Rustom.
A very brilliant effort for debut novel. Full marks. Way to go Shubha.
View all my reviews